Massdata editing
Before acitivating this feature, please make sure that the feature Multisselection in lists is activated. After activation an Edit button appears in the list view, e.g. of the PROCESSES facet.
Currently, only the administrator and architect are authorized to edit mass data. To start the mass data editing, just select all elements to be edited, click the Edit button to open the dialog window.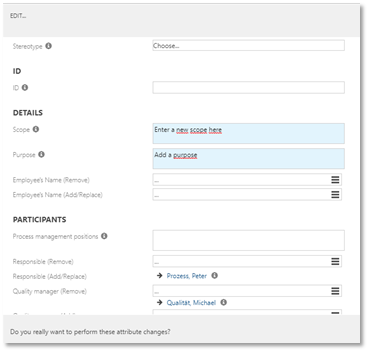 The Admin and Architect are now allowed to edit a large number of linked objects quickly, e.g. of roles, responsible persons or scope filters. Existing elements can be removed or changed as well as new elements can be added.
Please note that only elements with state "in progress" can be edited. In case that objects are selected by mistake although they are not connected they are treated as to be removed.